IS IT A BIRD,IS IT A PLANE ? NO , IT'S
SUPER PIG
Welcome to the web's best Super Pig vidcap site !!!



The story so far...

Kassie Carlen was an ordinary High School girl,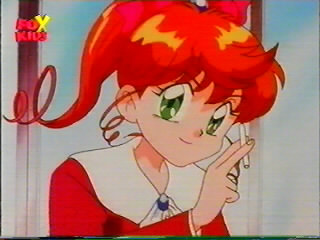 until an encounter with interplanetary porkers...Now when an emergency arises she becomes - SUPER PIG !




Basically its a highly enjoyable take on the 'Magical Girl' genre (Sailor Moon,Card Captor Sakura,etc.)that doesn't take itself too seriously.After all,a pig is hardly the glamorous alter-ego that most teenage girls would aspire to.No skimpy outfits or swirling gowns here.

The Plot...

In a nutshell...Kassie becomes Super Pig after encountering Iggy and Theodore,talking piggies from the planet Porco,and with the aid of her Porcapak(a brooch) she becomes Super Pig! When she isn't Super Pig Kassie is your average klutzy teen,with a crush on classmate Lance,but he doesn't notice her(sob)because he only has eyes for...Super Pig!?! However,class smoothie Radford has the hots for Kassie,much to the annoyance of class captain and queen b*tch,Heather,who goes out of her way to be mean and competitive with Kassie as a result. Aided by best friend Prudence,Kassie struggles to win the heart of Lance(and keep from flunking school)in the face of competition from her alter-ego.

Cast...

Kassie Carlen - ditzy teen/Super Pig !pic
Prudence Plumm - her best friendpic
Lance Romero - her ideal guypic
Heather Hogwash - her nemesis !pic
Radford Tammack - her admirerpic
Iggy Pig - roomate and advisor on her superpowerspic

More 'caps coming soon ...



p.s. hope Taiko Ikeda,Nippon Animation,Saban Entertainment,Fox Kids et al don't mind me 'borrowing' their stuff too much.Domo arigato !